Understanding the challenge
Manly people are worried they're not having the  « right » breakfast. For most of us, it's not that we don't have time to make and eat breakfast. It's that we don't have time to decide what we are going to have, make it and eat it. 
What if you start with a balanced and gourmet breakfast to boost your efficiency? SimpliBon developed lots of recipes naturally energising, and delivered to your office. 
Design brand identity and a responsive, mobile-friendly website that will make people understand better what they will eat and remember the brand.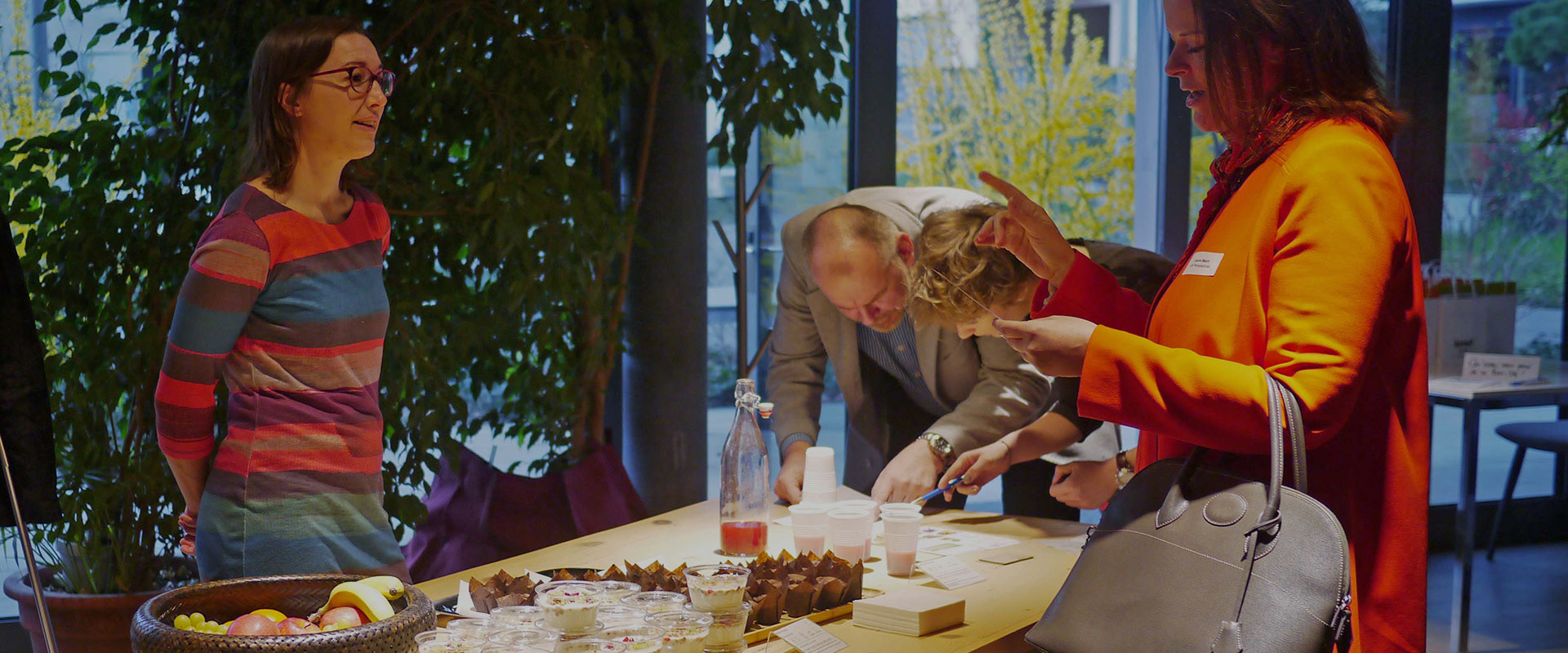 Observation in a real condition 
Before I begin to design, I went to see how is this breakfast service works in the real condition. 
Like is a new brand, SimpliBon should present their products in front of their clients, and talk to them their brand and the story, people will understand better what they were eating.
The flyer, the product info card, and the name card are very important to make people remember the brand.
I follow IDEO's human-centred design and lean UX design thinking process to make sure that my design decisions are supported by user research and feedback.

After some events who was prepared by SimpliBon. We found that several types of users with diverse needs. So we created two personas who presented lots of common personas.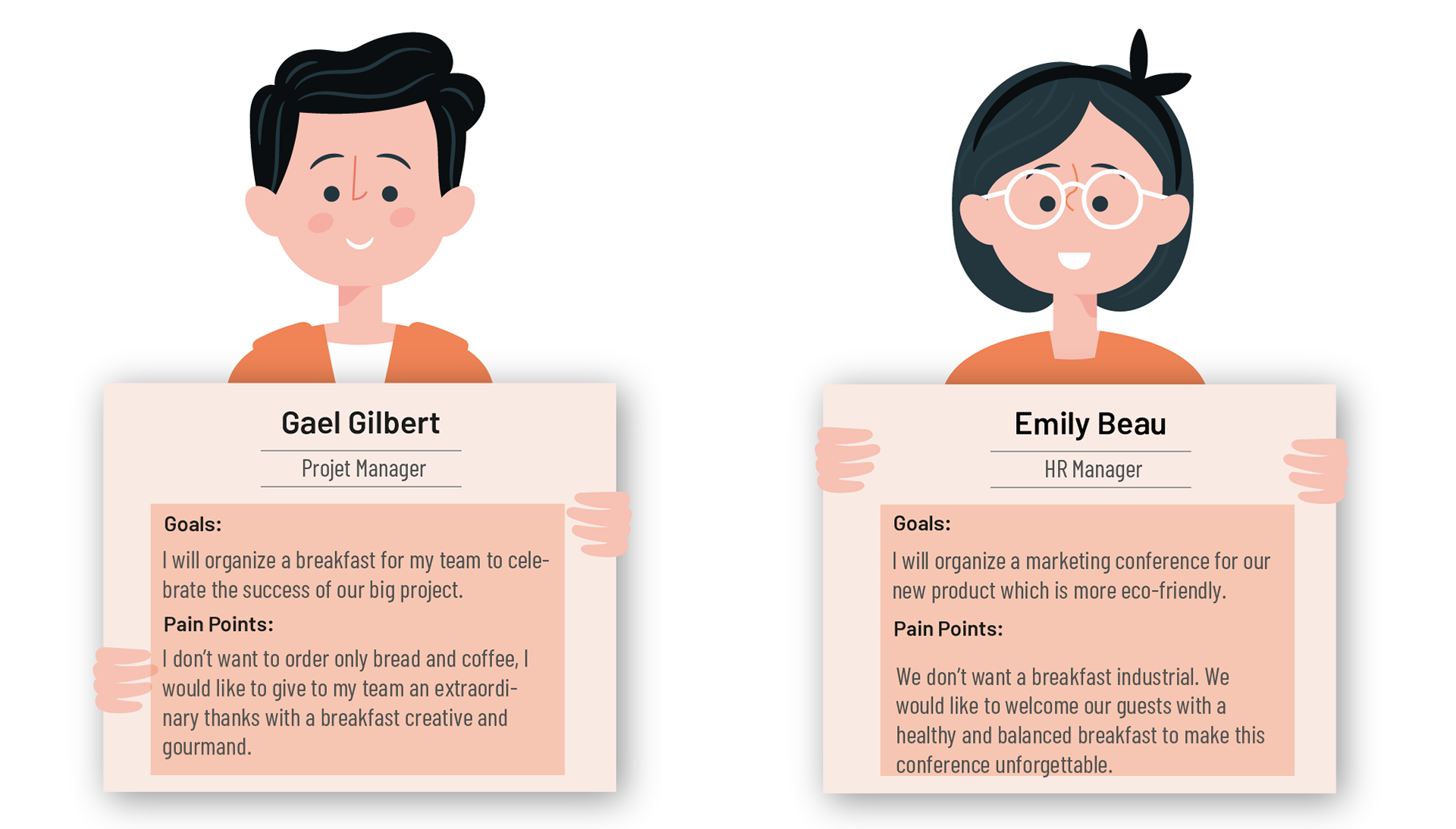 Instead of focusing on what the problem is or what the users want, we need to think about why they need it. By understanding why people might want this breakfast service, it is necessary to create a healthy and convenient breakfast service.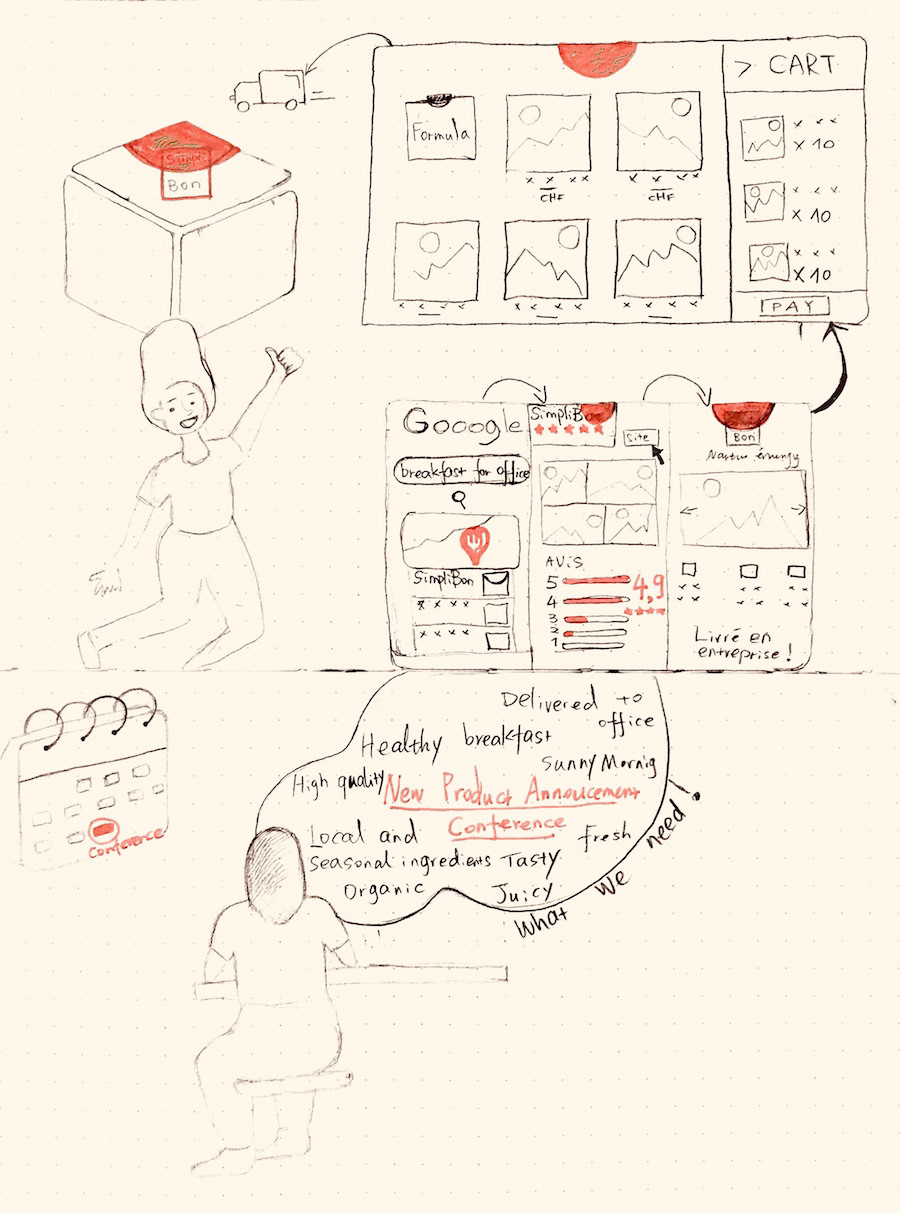 SimpliBon has a raw packaging, and the labelling is only the logo.
SimpliBon developed lots of recipes interesting, but we need to find how to present all the products of SimpliBon as simple as possible for the clients. 
01.  For a small enterprise
, The person who organises their events doesn't know how to make a good choice from all products of SimpliBon. So we simplified the menu with 4 formulas for choose.
02. For a big enterprise
, they need more quantities with more variety for their special event.  We need to create a special order page on the website for the client who needs more choice. 

01. Find some beautiful words
It helps to clarify the client's vision for their business branding. Once the questionnaire was filled, I 

begin the design process.
I put these words together, and try to find the
Brand DNA
witch are: 
Nutrition
: Aude was an agribusiness engineering before she became an entrepreneur. 
Simplicity
: when we prononce "Simpli", we smile. 
Energy
: To feel good, at the best of oneself in the morning.
Convenience
: shipping to your office.  
Once we define these keywords, I start to think these words conjure up all the different kinds of imagery.​​​​​​​

Sketching out wireframes was a quick and easy way for me to explore different ideas, without getting caught up in the finer details.
Begin with redesign the logo
After creating the wireframes, I started working through the detail of the Brand DNA and building a style guideline.
The idea is a combination of two simple geometric shapes: 
square
and
half-circle.
The Square represents:
shipping box.
The half-circle represents:
the food bowl, the smile and sun.
I choose rounded typography for the logo and handwritten typography for the slogan to bring a feminine touch, and also to show the food is made by a local catering with fresh ingredient. 

Orange is the colour of joy and creativity. Orange promotes a sense of general wellness and emotional energy.​​​​​​​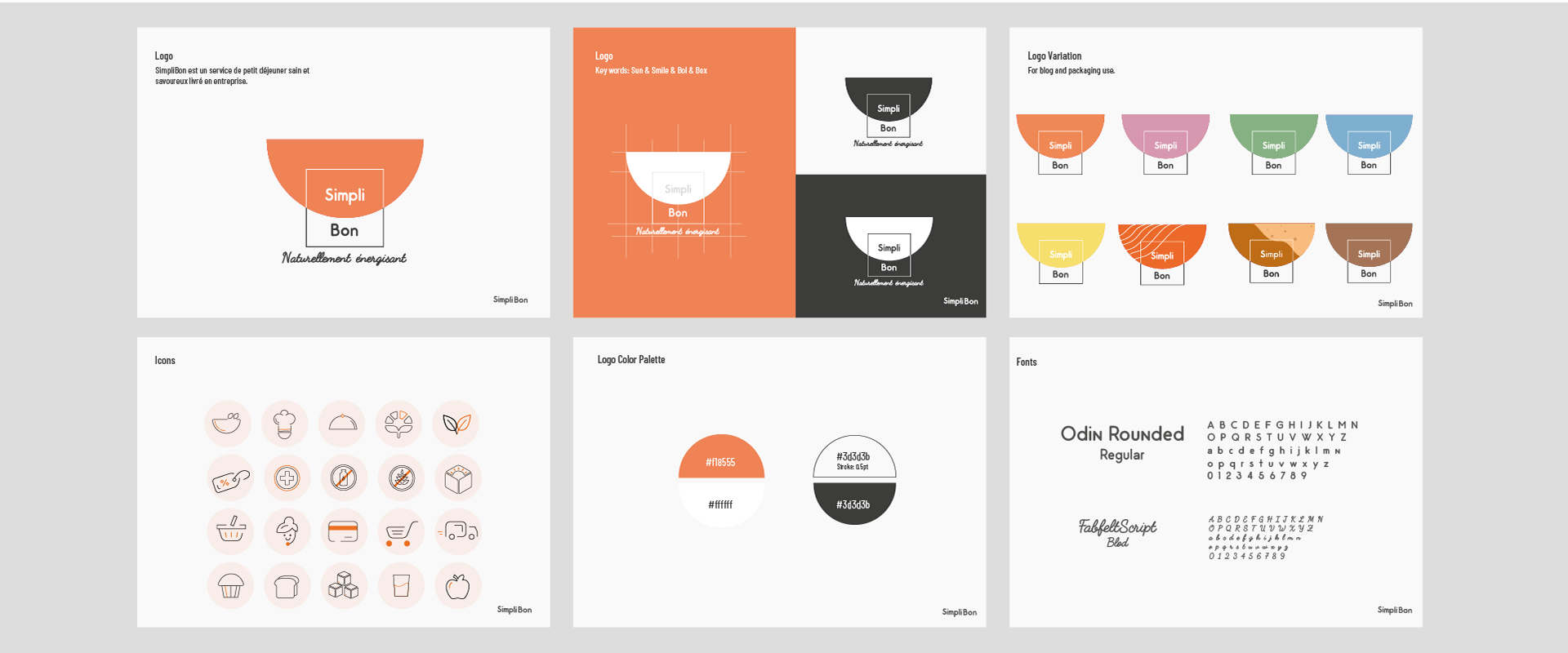 After determining the logo, the colours, typeface, and UI elements. We started firstly designing the menu. 
Don't let me think: Make the menu as simple as possible to understand. 
So we simplified the menu with 4 formulas for choose.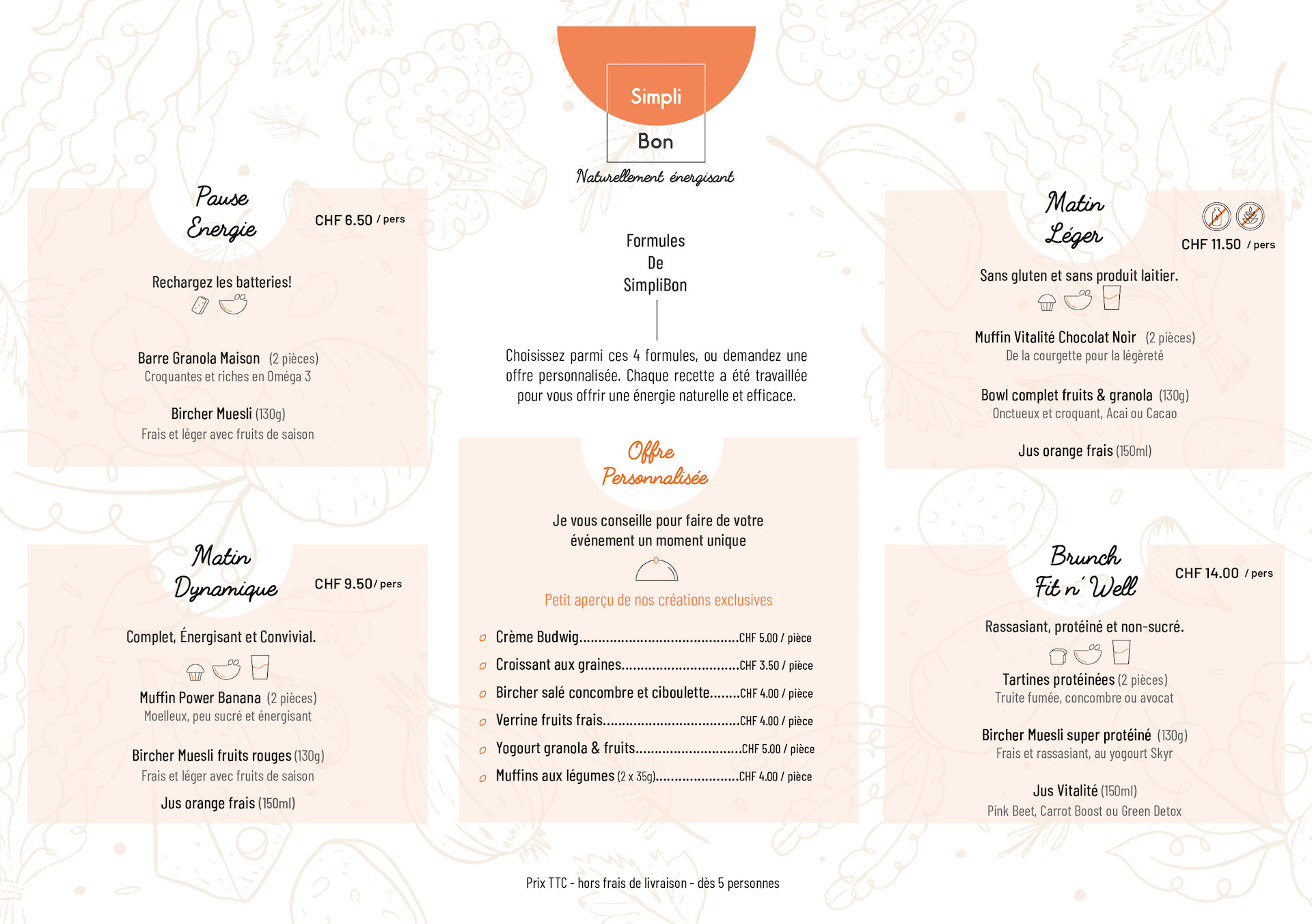 Up until now, we had a vague idea of how the website will function. Mapping the basic flow of the website forced me to figure each step on the path the users will take throughout the solution. I first sketched it on paper and then digitally rendered it in
Abobe XD
.
01.
Design clear and simple
02.
Make the storytelling page for the brand
03.
Communicate and order clearly 
From my prototype, I build the website with Wix. 
I started from the front page for the desktop, then I simplify this page for mobile design.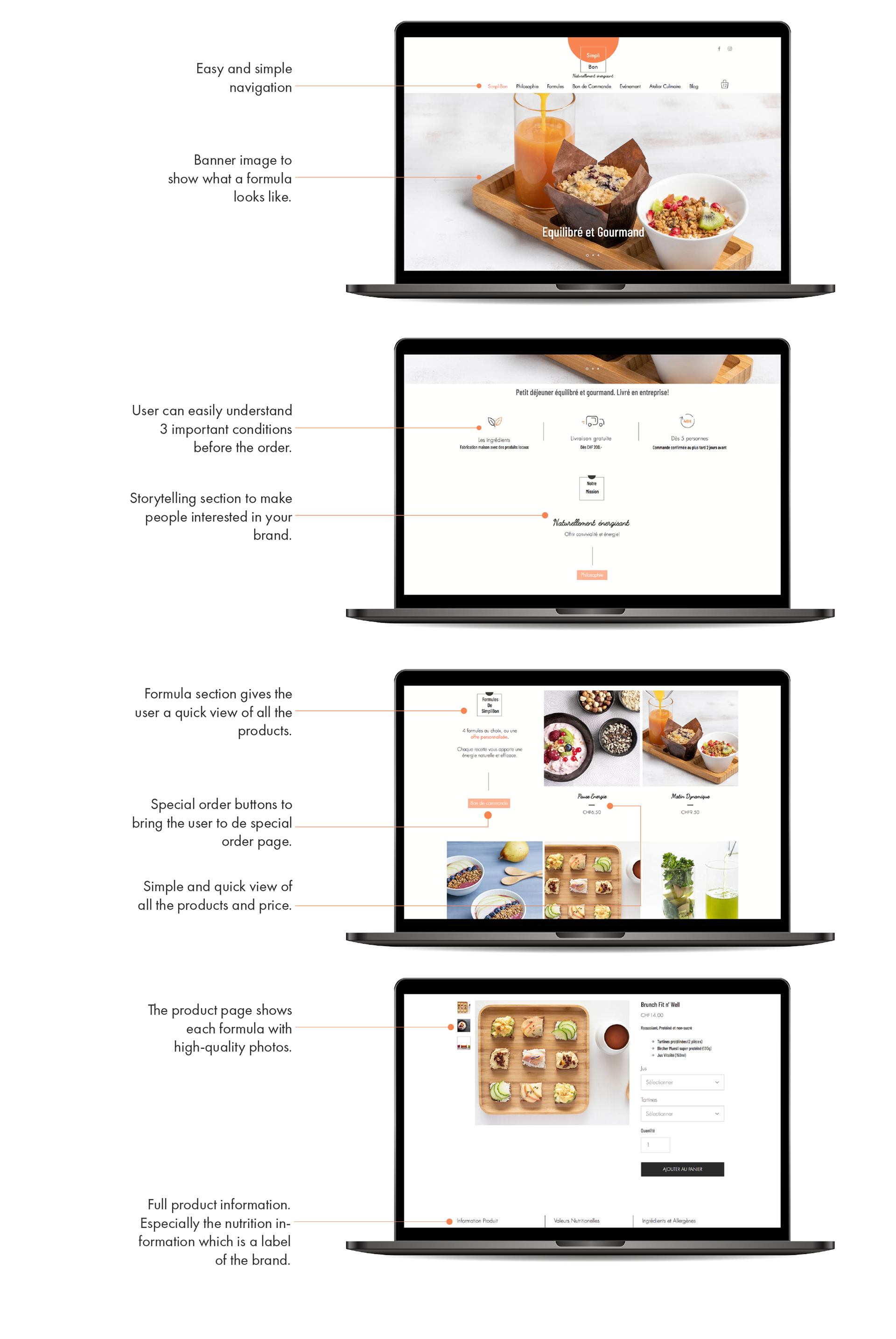 Have a background story to tell to give a reason for people to connect your brand over it.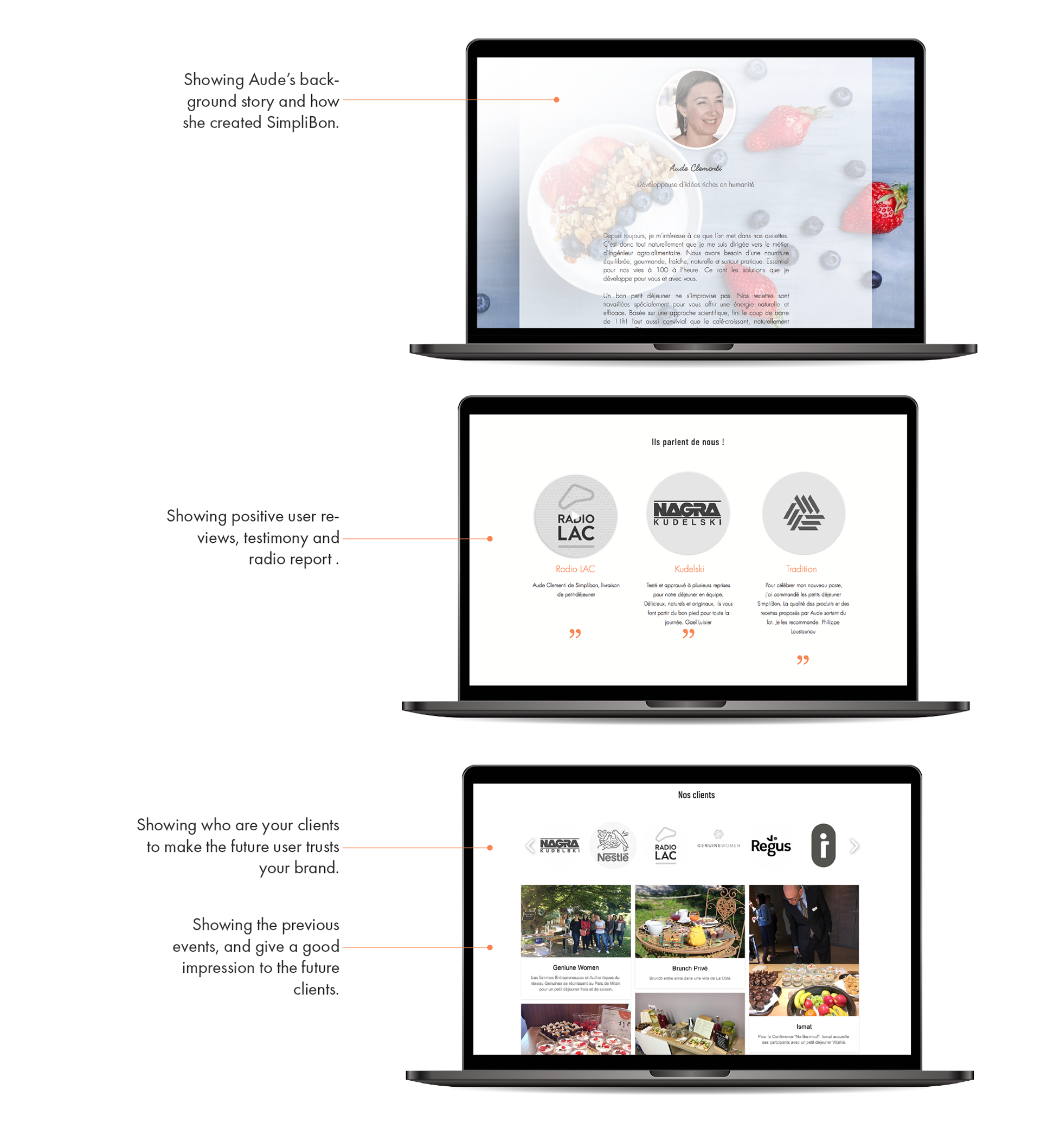 01.
Simplify and reduce navigation section.
02
. Messaging clearly (eg. sale shipping content)
03.
Clear design, easy to contact by phone option.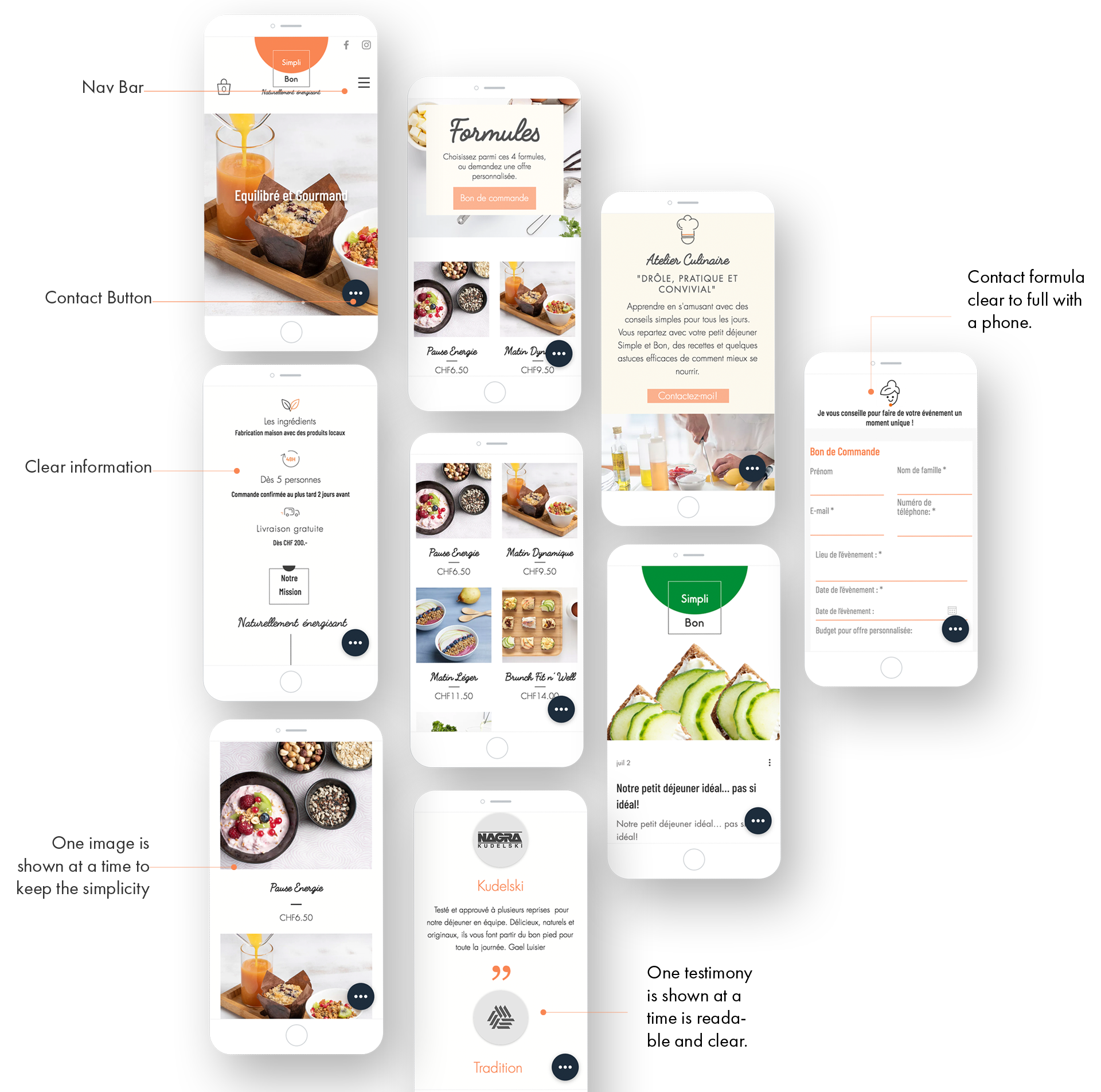 Give each user a role, such as small enterprise / big enterprise.
Each tester has an objective like order for 20, 50, 100 peoples, they need to make an order like in a real condition, from the front page to the check-out page.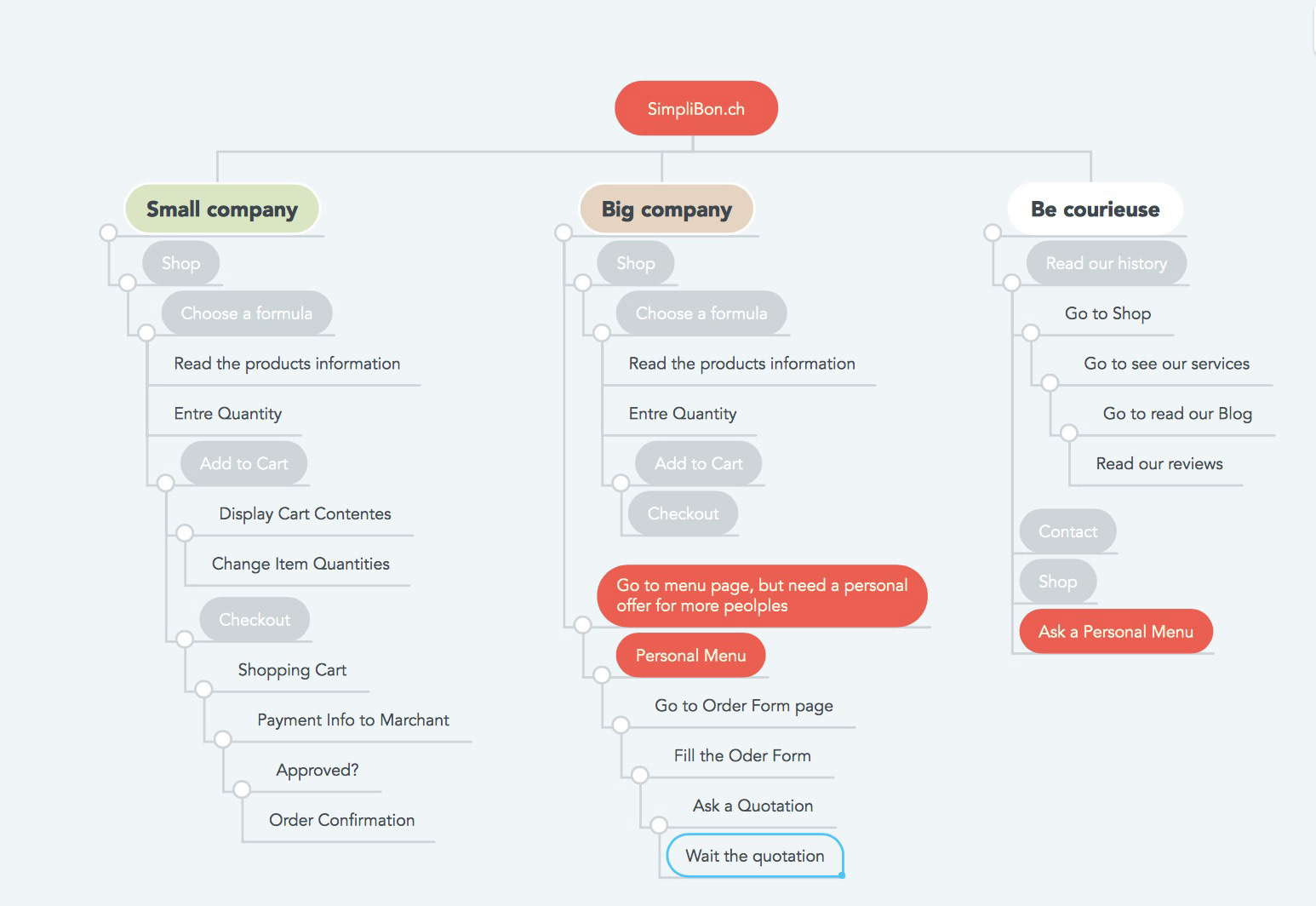 SimpliBon is not anymore just a local caterer without brand identity, more and more enterprise order SimpliBon breakfast, they have enough confidence to test these products from the website.